Caring Barbara wins Lifetime Service Award as trio just miss out
A Chester Golf Club member's dedication and service to the club has been recognised with a Lifetime Service Award from England Golf while two fellow members and the course manager were also finalists in the Volunteer of the Year and Sustainability Project of the Year awards respectively.
Barbara Craven's dedication over many years to the Curzon Park club and its members was rewarded with the fitting honour of Lifetime Service Award as the annual ceremony, hosted by BBC's Naga Munchetty, was held virtually for the first time and was streamed live via the England Golf YouTube channel.
The judging panel, made up of England Golf staff as well as industry and media colleagues, chose Barbara, who over the past 20 years has been involved as a golfer, volunteer, committee member, lady captain and president and she is currently chair of the house and club welfare officer.
On a recent visit to Woburn Golf Club, Barbara was surprised when Hannah Ingram-Moore – daughter of the late captain Sir Tom Moore – broke the news of her award and paid tribute to her amazing work helping others.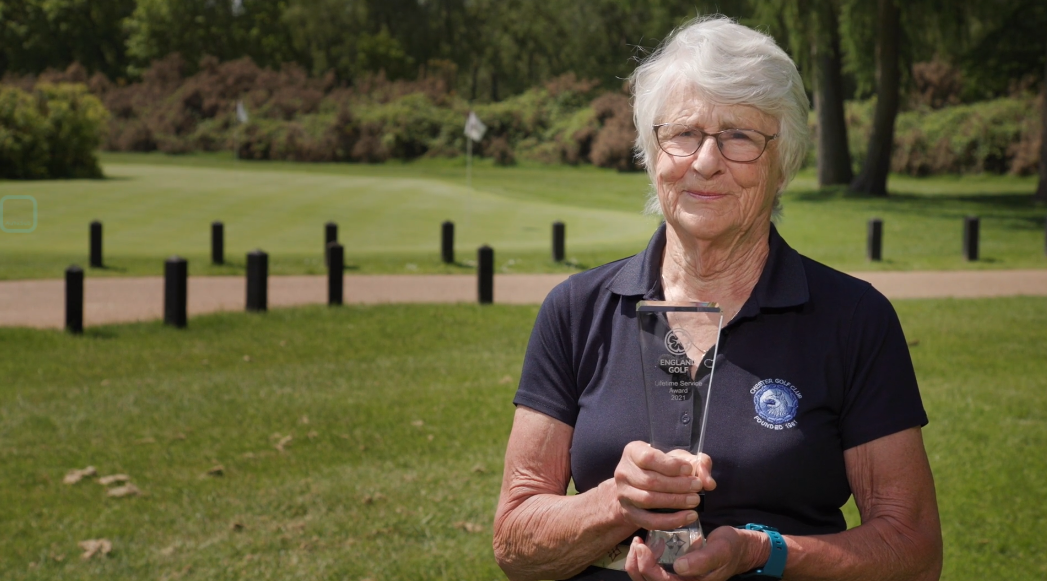 As a former GP, Barbara's caring and compassionate nature has endeared her to everyone she has come across. In particular, her recent work with the junior section and her drive to promote women's golf has shown just how valuable an asset she is to the club and community. Barbara was crucial to promoting the values of the Women in Golf Charter to which Chester Golf Club has become a signatory.
On learning that she had won the award, she said: "It came as a massive shock to me, but I'm extremely honoured to have been nominated and then chosen for this award.
"I've been at Chester Golf Club now for around 33 years. I joined so that my husband John and I could have a sport to play together when we were on holiday once our family had decided they didn't want to come away with us anymore!"
"When I retired as a GP, I had time on my hands, and I became the first lady on the management committee. I wanted to help others follow and show that the women had something positive to offer the golf club."
"It's a great club and socially very active. The aim is now to encourage more youngsters to get involved in that side of things.
"As club welfare officer, I'm involved with our new professional to help build up again what once was a very active junior section."
"I've made a lot of friends over the years at the golf club, people that we have been on holiday with and socialise with away from the club."
It was Chester Golf Club's Chair of Marketing & Membership, Nathan Pearson, who first nominated Barbara for the prestigious award. He said: "What is most inspiring about Barbara is that she continually embraces change within golf, she adapts to new initiatives and in spite of her years, she applies unbounding enthusiasm to encourage more and more people into the game of golf."
Barbara added: "Being at Chester Golf Club has been a huge part of my life and I'm thrilled to win this award."
Just missing out at the final hurdle were fellow nominees Owen Evans, a retired businessman and Keith Thomas, a retired accountant, who were put forward for the Volunteer of the Year Award after acting as honorary secretary since January 2020.
They too have been members and supporters of the club for more than 20 years, but in the last 18 months their support to the club has been overwhelming.
The Club Chairman said: "It is not an understatement to say that without the hours they've put in through their volunteering we would be in a very different and difficult position to where we currently are"
"They have worked tirelessly at the club, reviewing its finances, re-negotiating contracts, appointing a new professional and a new course manager. They have steered the Management Committee to make some difficult decisions and their attitude throughout has been commendable. They've both gone beyond what anyone could have expected from volunteers putting in well over 50 hours a week. During their time as honorary secretary we estimate they have contributed more than 3,000 hours."
The award went to Faversham Golf Club's Barry Sears for his commitment to junior golf.
Also making the prestigious final reckoning was Chester's course manager Andy Whyman for the Sustainability Project of the Year Award.
Nathan explained: "Since joining a year ago Andy, along with his team, have not wasted any time getting stuck into several sustainability-based projects and have taken full advantage of lockdown restrictions to improve drainage, the course's aesthetics and ultimately focus on sustainability.
"Through winter, they have dredged the ditches and cleared all the vegetation out of the pond, as the water was stagnant, and it was an overgrown mess. They have refaced the edge to make it look more aesthetically pleasing, are planning on installing a water feature to oxygenate the water and also built a log habitat into the bank to help encourage crested newts and other insects. Now that it's clear, they will be able to drain into it when they look to start their drainage programme next year.
"Andy and his team have built a large bug hotel by our second tee and will be introducing wildflowers and beehives with the aim to sell the honey to our members."
Whitsand Bay Golf Club in Cornwall was the eventual winner thanks to an ecologically-sound approach to golf course management.
In keeping with a live and virtual event there was also some unexpected drama during the announcement for Club of the Year.
Despite missing out on the award to Bush Hill Park, the lady captain and president at Dunnerholme Golf Club in Cumbria celebrated loudly - much to the confusion of others - after taking a call telling them they had just become grandparents!
Meanwhile, Chester will no doubt be hoping they have more reason to celebrate further success at next year's awards.
This content has been taken from the England Golf press release.